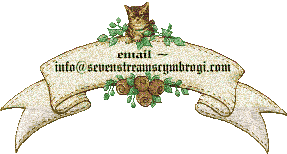 Norwegian Forest Cats...bet you can't have just one!

Seven Streams


Kitten Adoption Questionnaire

Before filling out our Questionnaire, please read over our

Policies Page

.
We have formed these policies with a great deal of thought and
rarely if ever change them. If you are in agreement with them,
Please copy and paste these questions into an email,
with your answers, thank you!

1. Please provide your name, address and phone #.
These will be needed for all Health Forms.

2. Length of time at current address.

3. Length of time at previous address.

4. Family members living in your home...children?

5. Have you ever owned a Norwegian Forest Cat before?

6. Please tell us about the other pets living in your home.

7. Have you ever taken a pet to the pound? If so, why?

8. Do you own or rent? If you rent, do you have
the landlord's permission to have pets?

9. Name, address and telephone # of your vet.

10. What type of care will be given your pets if you will be out of town?

11. If you were no longer able to care for your pet, what would you do?

12. Does anyone in your house smoke?

13. What do you plan to feed your new kitten?

14. Do you plan to have your kitten declawed?

15. Are you interested in a new family member, breeder, or show cat?
16. Have you read over the Policies Page and
Sales Contract and Health Guarantee Page,
and are you in agreement with them?
Please keep a copy of this for your records, also.


Before emailing us, you might also want to review the following page:
Diet Recommendations.
Our Diet information is not something we require, just food for thought.
Thank you!

Norwegian Forest Cats...bet you can't have just one!